Revolutionising marine studies with waterproof drones
Pushing innovation forward, AguaDrone is assisting the entire waterways industry, from fishers to scientists, with its modular drone system
Florida manufacturing start-up, AguaDrone, has beaten established brands such as DJI and Parrot by producing the world's first 100% waterproof drone with a sonar. Initially designed to assist fishers with long-distance bait drops, the AguaDrone UAV system has quickly made waves amongst the scientific community, who are utilising its innovative technology for marine research and aquaculture. AguaDrone founder, Daniel Marion, said: "We've always wanted to push the boundaries of drone technology but being able to have our invention positively impact the scientific community is extremely gratifying." The craft developed by Marion and his crew first drew the attention of CNBC's 'Make Me A Millionaire Inventor' and has since been featured on The Weather Channel and Yahoo Tech, thanks to its ability to adapt to what was once a drone's worst enemy: water. Powered using unique brushless motors, the AguaDrone can be flown in all weather conditions and is capable of landing in and taking off from fresh water and saltwater. When paired with the drone's modular pod attachments, it can even become a flying sonar system. Avid fishers are hooked on this high-tech addition to their tackle boxes, but there's more to this amphibious flier than flexibility.
Assisting in waterway management
Marine biologists have embraced the AguaDrone UAV system, with its patent-pending water sampling pod that enables scientists to collect water from previously inaccessible lakes, streams and canals. A harness can clip on to the pod attachment; the drone is then flown to the desired location using the drone's backlit LCD touch-screen, then lowered into the water to collect up to two 8oz (225g) cups of liquid before flying back to base for storage. This innovation opens up a range of possibilities for researchers, who would have previously had to enter algae infested waters or brave dangerous conditions to collect specimens.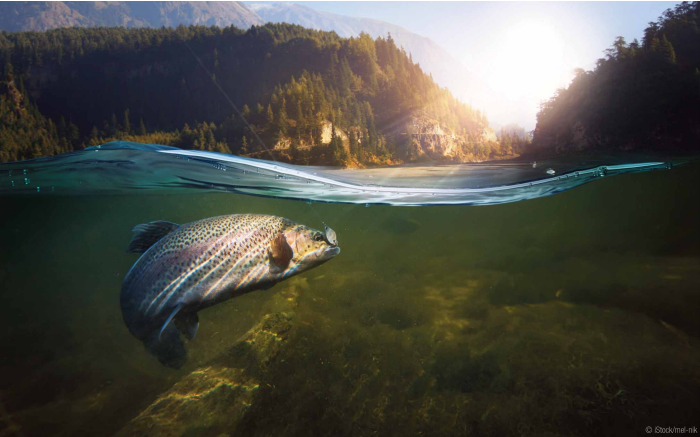 Positively impacting fishery management
Designed with the most advanced data and analytic tools on the market, the AguaDrone UAV has been widely adapted for the fisheries industry as a means of maintaining the pH balance in commercial farming ponds. Using the Agua-Data-Pod attachment, the drone is flown to a precise location before completing a water landing and allowing submersion for the fitting to quickly measure pH, conductivity (EC), TDS (ppm), temperature and salinity (ppt). The data is sent immediately to the remote ground station or via smartphone on the Aguadrone app (available on iOS or Google Play store). Thanks to cloud-based storage, this data is never at risk of deletion and can be shared worldwide in a matter of minutes.
Replacing traditional sonar on boats
Traditional marine sonar might be useful at reading water levels via boats, however, the AguaDrone UAV adds new depth to sea safety. Adding the 100% waterproof sonar pod attachment, the drone can measure below surface structures from shore, sending back images, temperatures and depths of up to 190 feet (57.912 metres) with all readings accessible through the AguaDrone app, and in realtime through a live-feed. Complete with its durable underwater filming pod, AguaDrone expects to see its namesake device become the leading choice for the scientific community over the next five years. Founder Daniel Marion added: "We're committed to creating products that evolve with our clients. That starts with approaching design by looking ten years into the future and thinking about what data those scientists will need as the world changes and how we can assist them in getting there."

Daniel Marion
Founder & CEO
AguaDrone LCC
www.linkedin.com/company/aguadrone
Watch the 30 second video here
Check out the full video here
YOU MIGHT ALSO BE INTERESTED IN